Gaining a sibling is a BIG change for little kids. They are flooded with emotions and they have little control. But you can help them get through the transition period with little gifts that help make them feel special and empowered with their new role!
So to help take some of stress off of you, I decided to round up the TOP Big Sister gifts, that are adorable and beneficial for a little girl gaining a new sibling!  So whether you know a little girl who is about to become a Big Sister or maybe she recently became one.. this post is for you!
As a Mom what's your number one baby accessory? A DIAPER BAG! So why not get one for your big girl?!
This Just Like Mommy Bag from KraftsbyAng is sure to be a hit it comes with her very own diaper bag, baby wipe case (& wipes), diapers, changing pad, bib & burp cloth, baby bottle and a baby blanket! Now she can play Mommy just like you! And since items are all hand made you can choose what color/pattern it comes in! (Each piece is carefully crafted together,with little details that really show quality workmanship & love for making things!)
Who say's this years hot new toy can't double as a the perfect Big Sister Gift?! Do you remember Puppy Surprise? Just Play Toys brought them back and they are as cute as ever! Give the gift of surprise as your the new Big Sister discovers what's in her Mommy Pups liter! It could have anything from three to five little puppies for her to love!
The tip that I received the most when I found I was pregnant with my second, was to make sure I had a baby carrier! After all.. you need your hands free when running after an older sibling. So it's no surprise that a Big Sister would want to wear their babydoll just like Mom does! With Sissy;s Swaddler's 'n Such Baby Doll Carrier she can! Each carrier is handmade with a simple design for even the smallest of hands. (Plus, it's a great price!! )
And let's not forget Big Sisters are more then just Mommy's little helper, they could be considered Mommy's Super Hero! So why not get her a cape to fit her new role?! Pip & Bean make adorable capes & masks for the super hero in your life. From personalized, to custom designed they have TONS of options for your little hero! I went with a hot pink Big Sister Cape, since I knew it was exactly what my big girl would need to help her use her power for good instead of evil! (Also, each cape comes with FREE wristbands!After all, no super hero is complete without them… or so I've heard!)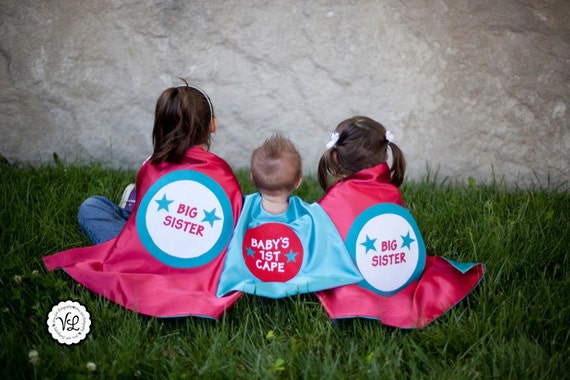 Even though big sisters tend to hold a new role within the house. It's still really important to make her feel special and loved! So what better way to show her some one on one time, then cuddled on the couch with a good book. The ISeeMe Big Sister book, will not only remind her of the great job that she is doing. But she'll get a ribbon to prove it! My favorite part of  IseeMe books are the personalization aspect.  It's such a great gift since it will be kept forever. Plus it features the people that they love most, so your kids won't be able to get enough of it!
It's pretty safe to say that both Big & Little girls ALL love jewelry! And a necklace is a very easy way to make a Big Sister feel special. But as I'm sure you know when it comes to jewelry the sky's the limit, but if you want something that your wallet will fully approve of you can check out Addys Klips! Her stuff is priced just right so that you don't need to think twice before getting one for your little, big kid!
Did you give a Big Sister gift when welcoming a new addition? If so, what did you give?!
xo, Dee
P.S. Big Sisters can be celebrated year round, these gifts also make GREAT Holiday gifts or even just because they deserve it! 
Are you following me?! Well.. what are you waiting for? Facebook Pinterest  Twitter Instagram
Please note I did not receive any compensation for this post, however I did receive one of each product for my new, little Big Sister. One item on this page does have an affiliate link which means if you make a purchase I will receive a small portion of the sale.